No-Till Seeder Drill
Now Scheduling for 2023 Rentals
No-Till Seeder Drill for Rent to Berkshire Area Farmers
The District is excited to announce a new funding program that enables us to rent the no-till drill for just a daily fee and deposit, no per acre fee in 2023!!  See below to download a Rental Agreement and send that to us with a Certificate of Liability Insurance listing Berkshire Conservation District as an additional insured and a $50 deposit to hold your requested dates. 
Contact our No-Till Coordinator today for more information.  
Berkshire Conservation District purchased a new Esch 5512 12 foot  No-Till seeder drill in 2019.  Built in Pennsylvania, the seeder has 5.5″ seed spacing and is equipped with a foam marker. It has a swing tongue that allows it to fold to 8'8″ for easy  road transport.
This equipment was purchased through grant funding from the Massachusetts Office of Energy and Environmental Affairs and the Massachusetts Department of Agricultural Resources.
Why No-Till?  Increase crop yield, use less seed, reduce labor cost, conserve water and improve soil structure and carbon sequestration. The no-till seeding approach to planting avoids disturbing the soil structure like traditional tilling does.  In 2020, 2021 and 2022, it was utilized to plant approximately 750 acres in and around Berkshire County.
How Will Berkshire Conservation District Assist Farmers?  BCD will provide training and support and will assist with delivery and pick up as needed.
Cost  The No-Till Seeder is available now through BCD for just $50 per day, plus delivery fee depending on location. No per acre fee!!
What are the steps to rent the No-Till Seeder?
1.  CONTACT the District to inquire about availability
2.  Download the Rental Agreement HERE
3.  Return the completed Rental Agreement with a Certificate of Liability Insurance listing the Berkshire Conservation District as an additional insured and a $50 deposit to hold the date(s) requested. 
NEW: Now you can pay your deposit and daily fee online through PayPal!  Scan and email your Rental Agreement cover page and Certificate of Insurance to [email protected] to reserve your rental.  Alternately you can mail your deposit with Rental Agreement cover page and Certificate of Insurance to: 78 Center St., Suite 102, Pittsfield, MA 01201.
4.  Indicate if delivery and pick up is needed to your farm
5.  Our No-Till Coordinator will contact you to confirm the rental dates 
Pay your deposit via PayPal!
Pay for your rental fee via PayPal!
Reserve your preferred rental dates early, as there is typically a lot of interest in spring from farmers ready to try the no-till method and repeat rentals.  
Some comments from recent renters of the No-Till Seeder:
"It was surprisingly simple to operate and exceeded my expectations."
"This rental program makes the benefits of a modern drill available to smaller scale farmers that otherwise would never be able to afford this equipment. I am recommending this program to my neighbors and we are already making plans to use it next year."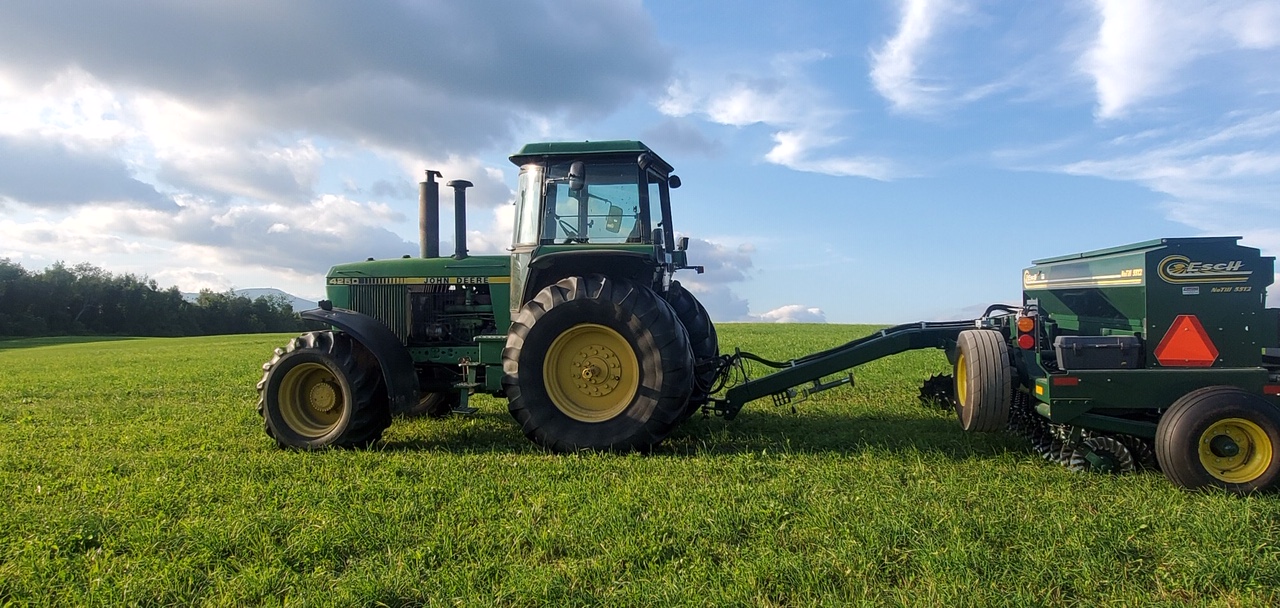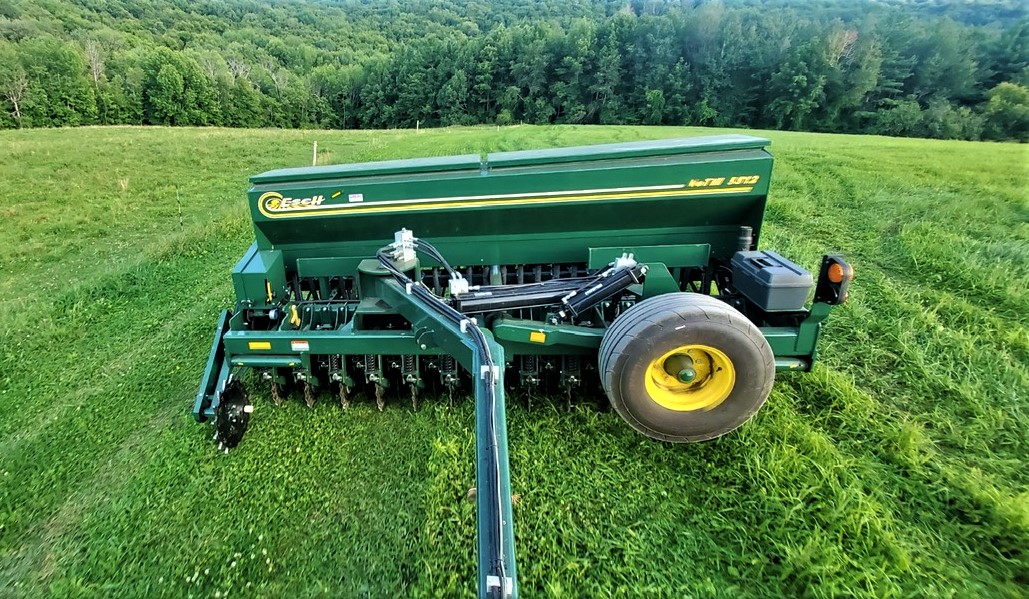 Berkshire County Pollinator and Native Plant Initiative
The District addresses the decline of native pollinators and their host plants across all landscapes.
Berkshire Conservation District received grant funding from the Massachusetts Executive Office of Energy and Environmental Affairs, Commission for Conservation of Soil, Water and Related Resources and Berkshire Agricultural Ventures to continue our commitment to conservation and sustainability in the community.  This funding enables us to support healthy habitats, including pollinator plantings across all landscapes and to increase the number of Berkshire communities adopting Pollinator-Friendly Community resolutions, while educating the greater community about the importance of healthy soils and native plants, especially those that benefit pollinator species.  We are also assisting farmers to include pollinator habitat and established a pollinator garden in North Adams, an environmental, and social justice and Pollinator-Friendly Community.
This program builds on the success of the Hinsdale pollinator garden project, a pilot program that promoted small-scale pollinator gardens in the town of Hinsdale, MA, which approved a resolution to become a 'Pollinator-Friendly Community' at the May 2019 town meeting.
With the increasing loss of habitat, use of pesticides and introduction of non-native species of plants, pollinators are in decline in the US.  Pollinators provide a vital ecosystem service by transferring pollen between plants to facilitate reproduction, making them responsible for 1/3 of the bites of food eaten by humans each day. "Gardening for pollinators creates links between humans and nature while fostering environmental stewardship" notes the Districts' Board of Supervisor Chair, Adam Galambos.  "Stresses on pollinators exacerbated by climate change is disrupting biological systems including the pollinator-flower relationship which poses challenges for all pollinators.  By planting a variety of native pesticide-free pollinator gardens, we can help to support pollinators in our communities."
The District offers on-line webinars led by knowledgeable pollinator and native plant specialists.  We are working with communities that want to pursue Pollinator-Friendly status and can offer matching grants for design, plant materials and/or educational outreach.  The town of Monterey passed such a resolution at their town meeting this year!  Our native plant sale, focusing on plants that benefits pollinators,  on September 3, 2022 was a successful event!  Join our mailing list for updates on the 2023 plant sale.
The District welcomes volunteers interested in getting involved in these projects.  For more information and to be part of this exciting program, contact the District at [email protected] 
Here's a great fact sheet on gardening to support pollinators from UMass Amherst Center for Agriculture, Food, and the Environment.
Here is a link to the incredible thorough and comprehensive Great Barrington Pollinator Action Plan
You can find more information on supporting pollinators in Massachusetts at Massachusetts Pollinator Network
Interested in making a simple mason bee house to support native bee populations?  Check out this video tutorial from our friends at Bee Friendly Williamstown!
Are you concerned that a pollinator garden will increase the risk of getting stung?  The reality is that the bees are stopping by for the pollen, not looking for a person to sting!  Read more about the benefits of attracting pollinators to your garden and reducing your insect anxiety here.
The Berkshire County Nutrient Management Initiative program was designed to be a resource for farmers and landowners to understand  the statutory nutrient regulations which strive to reduce excess nutrients washing into neighboring wetlands through runoff from lawns, pasture and farmland within Berkshire  County, MA.  This program was funded through the
the Conservation District Innovative Grant Program of the 

Massachusetts Executive Office of Energy and Environmental Affairs.
Nutrient management is the process of managing the amount, source, timing, and method of nutrient application with the goal of optimizing farm and land productivity while minimizing nutrient losses that can create environmental problems. It includes developing nutrient budgets that begins with knowing the amounts of nutrients present in the soil, determining the amount of nutrients needed by the crop, accounting for all the potential sources of nutrients, and then applying manures, composts, irrigation water, or inorganic fertilizers as needed to meet the nutrient requirements of the crop. It also uses site management practices to increase or maintain soil quality to reduce the potential for erosion and nutrient transport into surface water or nutrient leaching into groundwater. Soil quality is an important component of nutrient management because it affects nutrient retention and water movement through the soil.
Environmental concerns have resulted in more emphasis on better nutrient management over the past few decades. While nutrient applications are critical to soil fertility management, they can also cause widespread environmental problems if not managed correctly.
Working closely with the USDA-NRCS, the District provides outreach to farmers and landowners to understand the regulations, how they are implemented and how they impact the landowner or farmer.  The resulting environmentally sound practices can help them to hold those nutrients on their land, cycling them in a more natural way, rather than spending excess money on inputs. 
The first step in assessing soil amendment needs, if any, is to have the soil tested.  The UMass Amherst Soil and Plant Nutrient Testing Laboratory is currently accepting new orders for routine soil analysis.  
The full requirements  for plant nutrient applications can be found here.
Here are summary fact sheets for agricultural and non-agricultural turf and lawns.